Introduction
Over the last two years, there has been a significant change in the ever-evolving IT Industry. However one of the challenges that still remain is applications that are stuck on older Operating Systems. We also need to remember that as new technologies are released into the market, older tech does become deprecated.
appCURE is pleased to announce Version two of our studio product. The enhancements of Version two include full package automation capabilities as well as further enhancements on the packaging, MSIX app attach and fixing application compatibility issues.
What's new…
This section provides a high-level overview of some of the new features that come with appCURE Studio Version two.
Packaging
appCURE have updated the appCURE packaging tool to simplify the packaging of captured applications as well as certificate enhancements for the packager tool. We also added VMware App Capture and Install Capture Capabilities into the Studio product. You now have a choice of many different packaging outputs.
The screenshot below shows the capture ribbon on appCURE Studio.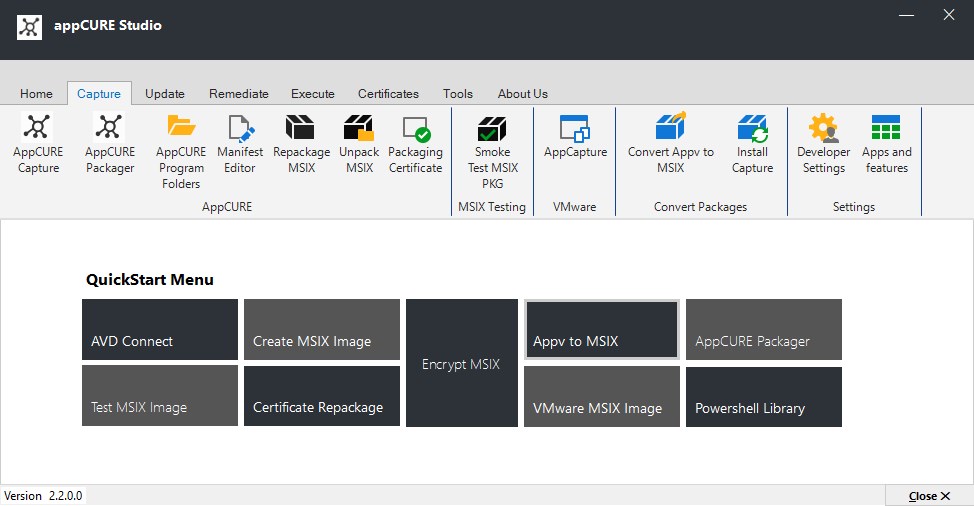 We next take a look at the new MSIX App Attach features and capabilities.
 MSIX App Attach
Dynamic Application Delivery is a relativity new technology from Microsoft which essentially uses applications on a virtual disk that are attached to a physical or Virtual Device. The enables the capability of delivering applications in session fast & securely as well as being able to complete in session application updates without impacting the user.
appCURE Studio Version two provides a full set of capabilities for MSIX App attach covering all your packaging and conversion needs. appCURE's proprietary MSIX app attach capabilities are leading the way in getting businesses to production quicker.
In this version, you can fully manage you're MSIX App attach estate using AVD connect as well as convert to and from the different MSIX disk formats available to you. Not only that, but you can also smoke test your MSIX app attach packages before uploading to Azure Virtual Desktop. This saves time as you can fix issues on the fly rather than going back and forth.
The following screenshot shows the different features available to you for MSIX app attach: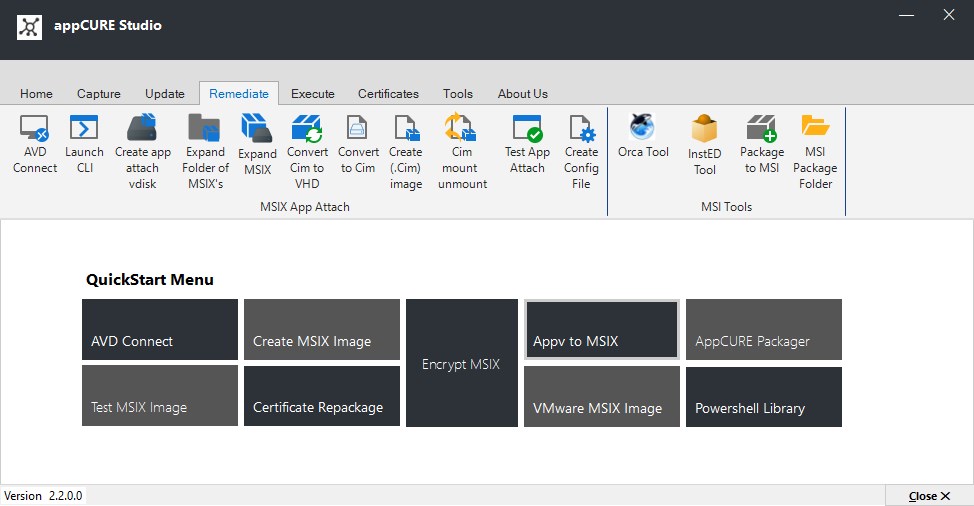 The following Screenshot shows the Azure Virtual Desktop Connect Tool: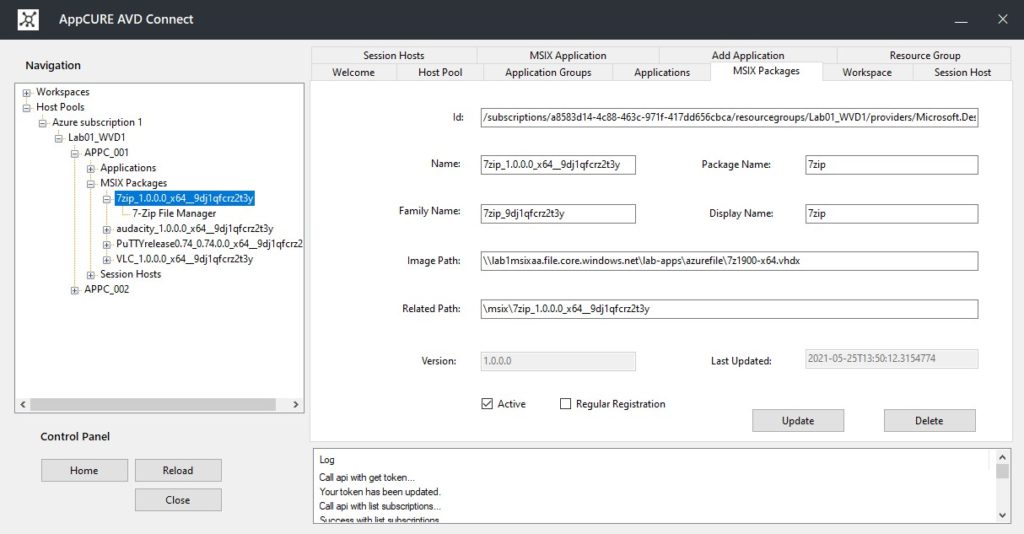 we now glaze over certificates as there are many features and functions available.
Certificates
In this version, we also made some significant improvements to certificate management as MSIX requires a code-signed certificate to install on a supported Windows Operating System. We also added the time-stamp feature so that you don't have to keep re-certing certificates on the expiry of the certificate.
The following screenshot shows the replace package certificate function: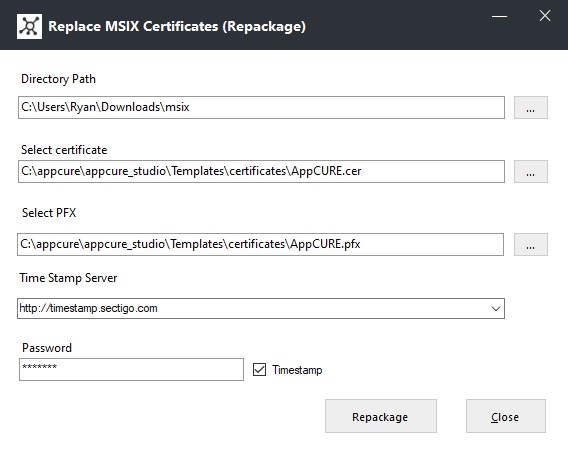 PowerShell Library
To aid customers, Partners and MSP's we have added a full portfolio of automation scripts so you can set up automated packaging capabilities out of the box.
the following screenshot shows the PowerShell Library where you can download the required scripts.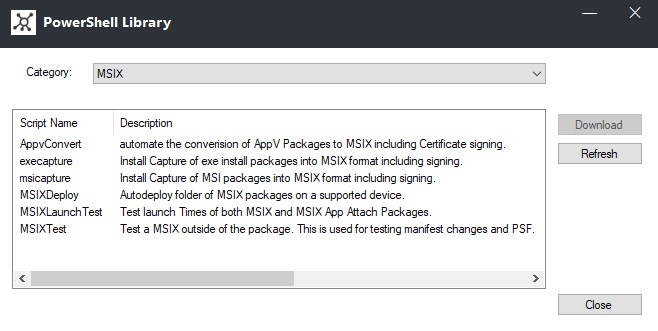 Summary
We have only covered a small section of features that have been covered in this post. If you want to learn more about the full feature list for appCURE Studio, please get in touch.
Contact us at info@appcure.io to find out more…
Automate your application Packaging & Repackaging