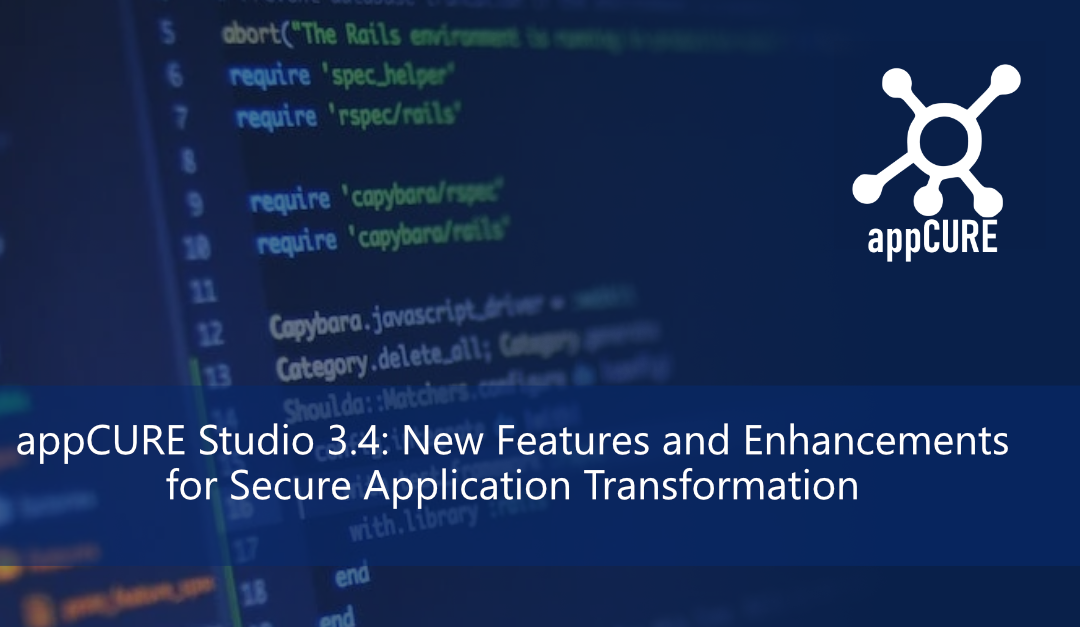 We are thrilled to announce the release of AppCURE Studio 3.4, our latest version of the transformation studio product. This new release introduces several new features and enhancements that offer our customers greater flexibility and security, enabling them to easily transform their applications.
One of the most significant features of appCURE Studio 3.4 is the full Azure Key Vault support for batch MSIX package signing, including certificate creation. Azure Key Vault for certificates provides organisations a secure, centralised, and scalable solution for managing digital certificates. It simplifies certificate management, reduces the risk of security breaches, and enables Packagers/IT Pros/Developers to code-sign MSIX packages with confidence. With this feature, our customers can now securely store and manage their code signing certificates in Azure Key Vault, offering an extra layer of protection for their applications. Additionally, our customers can create and manage signing certificates directly from within the appCURE Studio interface.
Another significant enhancement is the ability to modify MSIX capabilities, giving our customers greater control over their MSIX packages and modification capabilities. MSIX capabilities are a set of permissions that define how an application can access resources and interact with the operating system. These capabilities are used to ensure that an application has access only to the resources it needs and that it cannot perform any unauthorized actions. This feature enables our customers to add or remove capabilities from their MSIX packages, ensuring that their applications have the necessary permissions to function correctly and securely. It is particularly useful for complex applications that require specific capabilities to be enabled.
In addition, appCURE Studio 3.4 introduces Enforce Package Integrity, a critical security feature that enables our customers to enable and disable package integrity for MSIX. This feature ensures that the contents of an MSIX package have not been tampered with or modified in any way, making it ideal for enterprise environments where security is a top priority. With Enforce Package Integrity enabled, enterprise IT teams can ensure that the software they deploy is secure and has not been tampered with, which can help to prevent data breaches and other security incidents.
Furthermore, we have introduced Blob Storage Upload, a new feature that allows our customers to upload folders of files directly to Azure Blob Storage from within appCURE Studio. This feature is designed to streamline operations and make it easier for our customers to store large amounts of application packages in the cloud. Blob Storage Upload is a simple, streamlined way to upload files, making it a valuable addition to the appCURE Studio toolset.
We have also added an Azure Deploy Template, which enables our customers to quickly deploy appCURE Studio and all the required features by simply filling in a simple Azure template form. Additionally, we have introduced ISO creation, which allows our customers to store transformed packages in an ISO. This feature is ideal for companies that require the offline deployment of their applications or the portability of multiple packages.
In addition to these features, we are pleased to announce that the following integrations are now generally available:
Parallels RAS Integration
Nerdio Integration
Workspace One Integration
Application Readiness
AppVentix
These integrations offer our customers greater flexibility and ease of use, allowing them to integrate appCURE Studio with other tools and platforms.
In conclusion, appCURE Studio 3.4 is an exciting release that introduces several new features and enhancements, including Azure Key Vault support for certificates and MSIX package signing, MSIX capabilities modification, Enforce Package Integrity, Blob Storage Upload, Azure Deploy Template, and ISO creation. These features offer our customers greater flexibility and security, enabling them to confidently manage their applications and data in the cloud.
For a full list of features and improvements, please see the release notes.
Want to learn more, Why not get In touch with our team today!