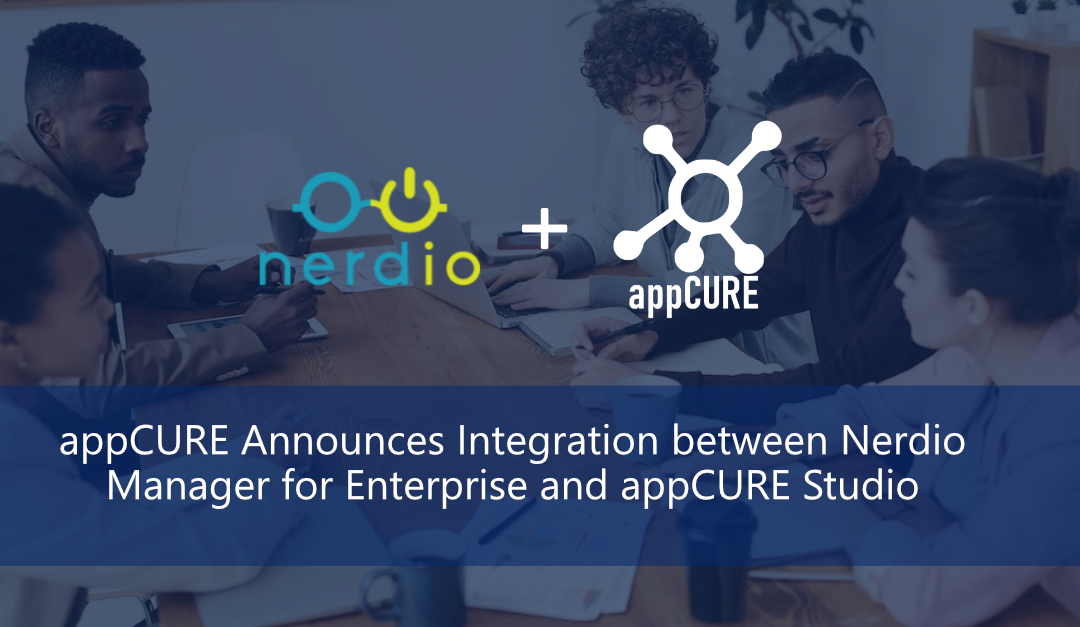 appCURE is pleased to announce our latest partnership and Integration with Nerdio , combining the capabilities of both technologies to help customers migrate to Microsoft's fast-growing desktop, application and virtualization offerings (Azure, Microsoft 365 and Azure Virtual Desktop). 
Introduction
 As more and more organisations look to migrate services and applications to the cloud, one of the biggest challenges remains the migration of applications from older operating systems. This problem becomes more apparent when missing installation media and lost documentation and information are required, which can cause a significant impact to a migration project's timeline or stall a project completely. This, combined with challenges around cost implications of the cloud, optimisation and management of scalable technology, can cause organisations to run up large unoptimized IT costs.
The Nerdio and appCURE partnership and new integration helps organisations quickly simplify application migration, management and transformation into a production environment. In addition, the integration offers enhanced application lifecycle management and the advantage of modern application formats such as MSIX and MSIX App Attach .
Combining Nerdio and appCURE provides a best-in-class enterprise workspace solution for Microsoft 365 and Azure Virtual Desktop.
Dynamic application delivery, also known as MSIX app attach
 Nerdio Manager for Enterprise adds value on top of Azure Virtual Desktop, Windows 365, and Microsoft Intune by delivering hundreds of features that simplify management, ensure efficient operations, and lower Azure compute and storage costs by up to 80%.
Today, Nerdio offers improved MSIX App Attach capabilities and streamlined management in the Nerdio Manager for Enterprise platform that adds great value on top of Azure Virtual Desktop's native capabilities and provides an enhanced experience for the IT admin. In addition, Nerdio's solution takes care of application lifecycle management, version control and code signing certificate requirements required for MSIX packages and MSIX App Attach.
appCURE's application transformation portfolio
appCURE is based on Capture, Update, Remediate and Execute (CURE), the four base process principles on which the technology is built on. appCURE provides a comprehensive application packaging toolkit designed to unstick application migration projects and simplify the transition of applications to modern digital workspaces. appCURE also helps handle day two operations, including managing updates when required to keep applications in production.
Using appCURE Studio, you can package and convert applications into MSIX even if you don't have the original installer for the application. appCURE's running capture technology enables you to capture the application off the older operating system & package the captured app directly into MSIX, avoiding project delay and enabling the applications to be delivered to a modern digital workspace.
appCURE boasts an average time of approximately 6-8 minutes per application transformation, including smoke testing.
Nerdio and appCURE Integration
With appCURE studio 3.4 and future releases, you can now take full advantage of the Nerdio and appCURE Integration, which enables you to easily capture, transform and publish applications into the MSIX format for any user. There is no manual action or scripting required when using Nerdio and appCURE. appCURE and Nerdio simplify the IT administrator's MSIX App Attach experience and reduce the number of master images needed when delivering a virtual desktop environment. appCURE transforms the applications and delivers them into Nerdio's MSIX app attach library.
appCURE and Nerdio help customers migrate quicker to production, unstick stalled projects and continue to manage application version control and cost optimisation today and into the future as the platform changes to facilitate the business challenges.
For further information, see the links below:
Want to learn more, Why not get In touch with our team today!